Dr. Ken Canfield, a nationally-known leader and scholar, has committed his life to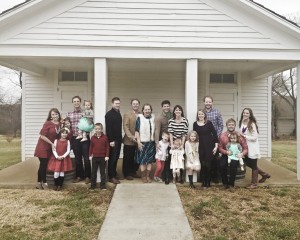 strengthening families and fathers.  He has founded and continues to engage in several organizations dedicated to improving family well-being, most notably the National Center for Fathering, where he served as President for 16 years. He is currently president of the National Association for Grandparenting (GrandsMatter.org), which he founded in 2016.
Ken was born in Wichita, Kansas and attended public school. He was active in sports and scouting and began his work career at age 14 delivering newspapers for the Wichita Eagle Beacon.  He worked through high school and college at the Coleman Company and other small manufacturing companies.
After graduating from high school, he completed a B.A. at Friends University (1978).  He established an inner-city community-based outreach for youth upon graduation from Friends (CCS/Youth Horizons 1978-1981) and later pursued further studies at the University of British Columbia, Regent College, where he completed a Masters Degree (1984).  He went on to finish a PhD. at Kansas State University (1995).  While in Manhattan, Kansas he became a Vice-President of the Osborne Company, specializing in construction and development.  He also founded the International Family Center (1984) (counseling center and research think tank to strengthen families) and the National Center for Fathering (1990).
While leading the National Center for Fathering, Dr. Canfield served as a consultant to media, and to national, state and community leaders.  He has testified to the National Commission of Children (1990), served as a founding member of former Vice President Al Gore's "Father to Father" Initiative (1995-2000) and the National Fathers Leadership Group (2002-2006).  He has been recognized for his leadership and awarded the Father of the Year (1993) by the National Congress for Men and Children, the Most Outstanding Alumnus (2006) Award from Friends University, and the Polish Presidential Medal of Honor (2007).
Dr. Canfield has keynoted or presented at dozens of state and community conferences, ranging from Governor Jeb Bush's Florida Summit to Evan Bayh's Restoring Fatherhood Conference.  In addition, he has presented at more than 200 conferences in a variety of communities, including fatherhood and family conferences in Mexico, Poland, Australia, Russia, Ukraine and Singapore.
Dr. Canfield is the author of numerous articles, both popular and scientific.  His work has appeared in Psychological Reports, Educational and Psychological Measurements, The World and I, Parents, Today's Better Life, Living with Children and New Man.  He is the author of the award-winning 7 Secrets of Effective Fathers , The Heart of a Father, The Adventures of Fatherhood Series, They Call Me Dad, as well as several book chapters in edited texts.
Besides publishing, Canfield has been heard on a daily weekday radio commentary, Today's Father (aired on more than 400 stations nationwide, 1993-2006) and now Grands Matter radio (2016). He has been interviewed on The Oprah Winfrey Show (twice), NBC's Today Show, ABC's World News Tonight, Focus on the Family, and numerous radio programs.
Ken and his wife Dee (a Professional Counselor) have been married 40 years. They have five children, three daughters and two sons, ranging in age from 26-36.  They also have three sons-in-law, one daughter in-law and ten grandchildren.
PUBLICATIONS
"Alternative Methods for Evaluating the Null Hypothesis" co-author Walter Schumm, National Council of Family Relations, November 2009.
"Pre-Marital Sexual Activity as a Predicator of Post Marital Satisfaction", National Council of Family Relations, November 2009.
"The Inestimable Value of Responsible Fathering" in Fatherhood: Insights and Perspectives, Children's Institute, 2009
"Father Closeness: It's Effect on Married Men's Sexual Behaviors, Marital and Family Satisfaction" in Journal of Sexual Addiction and Compulsivity, 15:59-76, 2008
"The Benefits of Small Groups for Fathers," in Why Fathers Count (University Press, 2007).
They Call me Dad (Simon and Schuster, Howard Press, 2005).
Columnist, Parent Life (Lifeway Publishing, Nashville 2003-07).
Foreword in Clinical and Educational Interventions with Fathers (Haworth Clinical Practice Press, 2001).
"Fathers Matter: Call to Commitment in Children's Learning, U.S. Department of Education Research Summary (2000).
Engaging Non-Custodial Fathers, U.S. Department of Health & Human Services (2000).
"Promises Worth Keeping," chapter in The Fatherhood Movement: A Call to Action (Lexington Books, 1999).
Adventures in Fathering – series of 6 books (National Center for Fathering, 1999).
The Heart of a Father (Northfield, Chicago 1996).
Effective Fathering Practices and Fathering Satisfaction Related to a Father's Life Course (Kansas State University, 1995).
"Measuring the Dimensions of Effective Fathering", co-author Gale Roid, published in Educational and Psychological Measurement (1994).
Beside Every Great Dad, co-author Nancy Swihart, (Tyndale, Chicago, 1993).
The 7 Secrets of Effective Fathers (Tyndale, Chicago, 1992).
"Factorial Validity of Brief Satisfaction Scales in Fathers," in Psychological Reports (1990).
The American Family Under Siege (Washington, D.C. 1989).
Additional articles and columns in: Grands Matter, Today's Father, The World & I, Parents, Today's Better Life, New Man and Living With Children.